2016 & Older Archives
December 13, 2016
The Seniors Research Advisory Committee (SRAC) was formed as an essential part of the participatory research initiative being led by the Gilbrea Centre. The committee includes seniors from HSIIP priority neighbourhoods as well as those representing the larger Hamilton community.  At the first meeting held November 24, 2016, the committee provided important guidance on research questions, project materials, and how to best access socially isolated seniors in their communities. We thank the committee for their time and advice and look forward to our next meeting.
---
November 30, 2016
Rachel Weldrick, a research assistant at the Gilbrea Centre for the Studies in Aging and PhD student at McMaster University, attended the Canadian Association on Gerontology 2016 conference – 'Fostering Innovation in Research on Aging' held in Montreal, QC (October 20-22, 2016). While at the conference, she presented a poster on the Hamilton Seniors Isolation Impact Plan. The poster presents a brief conceptual review based on research conducted by the Gilbrea Centre during the literature review phase of the project. The poster discusses how social isolation is defined, and how it is often confused with related terms and concepts (such as loneliness). The poster also makes preliminary recommendations for next steps in this domain.
---
---
November 16, 2016
Launched in October 2015, the objective of the RISE campaign is to help Canadians of all ages, cultures and regions become aware of the impact of loneliness and social isolation on their older family members, friends and neighbours – and to take action. It is a national campaign that will involve partners across the country as well as individual Canadians. The goal of RISE is to share information and encourage thousands of concrete actions across the country to help reduce the social isolation and loneliness of our older people.
https://youtu.be/CBssIH0kEG4 – video link. To learn more about RISE please visit – http://rise-cisa.ca
---
June 20, 2016
McMaster Daily News, June 13, 2016
The Hamilton Seniors Isolation Population Impact Plan – a collaborative project of which McMaster is a part – has received $2M in federal funding.
The three-year project, which includes the Gilbrea Centre for Studies in Aging, will help tackle social isolation among seniors in specific Hamilton neighbourhoods.
To read the full article, visit http://dailynews.mcmaster.ca/article/collaborative-project-to-help-seniors-living-in-isolation/
---
June 14, 2016
Hamilton Spectator, June 12, 2016
…"Nobody wants to be alone, no matter what their age… It is through projects such as this one that we can do something real to alleviate the loneliness and isolation that can be so harmful to a person's both physical and mental well-being" said Jean-Yves Duclos, Minister of Families, Children and Social Development."
To read the full article, visit http://www.thespec.com/news-story/6719460-federal-funding-to-help-tackle-social-isolation-among-seniors/
---
June 13, 2016
Government of Canada announcement, June 11, 2016
A new collaborative initiative is being launched in Hamilton to help prevent and reduce social isolation among seniors. The Honourable Jean-Yves Duclos, Minister of Families, Children and Social Development, along with Filomena Tassi, Member of Parliament for Hamilton West–Ancaster–Dundas, and Bob Bratina, Member of Parliament for Hamilton East–Stoney Creek, made the announcement while visiting AbleLiving today.
Seven organizations are collaborating through their individual projects to attain measurable results under the Hamilton Seniors Isolation Population Impact Plan. Their goal is initially to target neighbourhoods where the risk of social isolation among seniors is greatest. Most at-risk seniors are those who live alone, have disabilities or poor health, have low income, have language barriers or have reduced access to services. More than $2 million in federal funding is being invested in these projects through the New Horizons for Seniors Program. …
To read the full announcement, visit http://news.gc.ca/web/article-en.do?nid=1083699&tp=1
---
How Those With Dementia Need To Be Included In The Community Too…
February 29, 2016 ~ Hamilton Council on Aging
Through taking many classes in the Health & Aging Department at McMaster University, I have learned the importance that the community has on aging. As a student in gerontology and health studies, I have just started to become educated in the benefits of age friendly communities, and have seen a need for others to become more aware of this topic. An article written by Dupuis (2010) considered an interesting perspective when he looked at older adults with dementia and the need to still incorporate their lives into communities, along with solutions on how to do this.
The Dupuis (2010) article looks at how we can improve the lives of individuals with dementia as well as their family. Long-term care (LTC) centres are faced with pressures such as low staff assurance, high turnover and a lack of specifically skilled workers to allow for these specialized programs to be implemented. Dupuis (2010) identifies some necessary changes that need to occur to improve the well-being of those with dementia. The two goals for this new approach are a framework centered on meaningful lives despite the level of dementia the older adult has, as well as readdressing how we currently support not only the people with dementia but also their families (Dupuis, 2010). Dupuis (2010) argues that leisure is the solution to help older adults become more engaged in the community as well as helping meaning be found for the lives of the older adults and those close to them (Dupuis, 2010). A more socio-cultural approach to dementia and the care of these individuals are crucial. By looking at things from a wider perspective, we can confront the ways that we discriminate against those with dementia, and understand that which we are uncomfortable talking about (Dupuis, 2010).
Dupuis (2010) looks at how the community can impact these policies and work with those who have dementia and their families. The guiding principles of this framework are a relationship-based approach that calls for:
– Acknowledging the dynamic of family/friends as a support system
– Ethical principles of 'do no harm'
– Reevaluating the ways which people with dementia may be impacted
– Recognizing individual and community rights
– Making sure these individuals in society are valued and considered citizens
– Respecting diversity and inclusiveness
– Recognizing there are different types of people and dementia levels, so not one case is the same as another
– Fairness in policies and accessibility
– Accountability of not only the people who are caring for those with dementia, but the community and family as well.
The three foundation pieces that need to be regarded are an informed society that is educated, supportive environments that allow individuals to be safe, and a sense of connectedness that eliminates this sense of 'otherness' that individuals with dementia face due to stigma (Dupuis, 2010). Dupuis (2010) believes that recreation and leisure need to be at the forefront of this framework to act as a way to buffer and normalize the individuals, and to get people to see beyond the diagnosis of dementia.
From experience, I have found that when people find out that a loved one has dementia, how they act around you and your family changes. People that you know and love begin to distance themselves from you, instead of talking and trying to become educated about the disease. There continues to be this stigma that surrounds the illness, creating distance from those who have dementia instead of an understanding and support that would so greatly help not only the individuals with dementia but their families as well. It takes a lot of adjustment as losing the support of your friends and community leaves a gap that is difficult to handle.
Jessica Barlas is studying health and aging at McMaster University.
References
Dupuis, S. L. (2010). A planning framework for improving the lives of persons with Alzheimer's disease and related dementias and their families: Implications for social policy, leisure policy and practice. Decentring work: Critical perspectives on leisure, social policy and human development, 91-117.
---
Precarity: Reconsidering Housing and Home
Many people hope to stay at home for as long as they can. Researchers continue to believe that the home is central to aging well. However, what is often missing from research is a discussion on how feelings of safety, security and affordability must be in place in order for one to really be able to age at home, or feel that the place they age is 'home'. To have a positive sense of home, one must be able to afford to live at home, and feel safe as well as secure. Achieving the expected ideals of home can thus be hard for seniors who live in poverty, or if they are marginalized and excluded.
Since society values people that have a home, older people who are homeless are often deemed as 'unsuccessful'—a key indicator of wellbeing in late life. The implications of not having a home are thus about public perceptions and realities in care. By not having a home in older age, the homeless cannot access home care services, and have no choice but to use other care systems that are more expensive, such as hospital emergency rooms or a shelter.
In thinking about 'home' and 'homelessness', we need to find a language that is inclusive of the many inequalities that can occur with regards to seniors housing and homes. The word 'precarity' is helpful in outlining the risks and inequalities that can happen among older adults with home and housing. Precarity means uncertainty, risk and insecurity. There are a number of ways that seniors housing can be precarious. Older people for instance may be homeless, meaning that they lack stable, permanent and secure housing. According to the Canadian Homeless Research Network, there are four sub-groups of homeless people which includes: unsheltered, emergency sheltered, provisionally accommodated and at risk of homelessness. In addition to being homeless, many older people are provisionally accommodated or at risk for homelessness. This means that although they may not currently be homeless, they have a financial and/or housing situation that is precarious. This 'at risk' category can help us to understand the inequalities that exist and the need for a housing agenda that would prevent older people from falling into homelessness for the first time in later life.
What this means for policy and programming is that we need to consider both home and housing, and not either or. We need to think of the taken-for-granted ideals of home and make safe, stable and affordable housing a central part of discussions on aging, care and late life. Only through these discussions of housing and home, can we be sure that all seniors have equal access to 'aging well.' Precarity and precarious housing provides the language to move us forward.
Setting an Agenda- What is important for the community sector?
Communities have a responsibility to reach out to groups who are marginalized or excluded in later life and to make sure that their voices and needs are heard. We need to make sure that everyone has access to aging well and need to discuss housing older people who are at risk.
The assumption that people want to live at home throughout the life course requires that the home is safe, affordable and secure and that the needs of the senior can be met at home. These pre-requisites need to be accounted for when looking at the 'home' in later life. Policy structures need to be completely redesigned with this thinking in mind, and need to account for the needs of older adults who have precarious housing situations.
At the moment, all care is configured around the home without looking at the gaps faced by many people who are excluded, in poverty or marginalized. Those with less access to structures that make 'home' possible are put in positions of unequal aging.
Amanda Grenier is Director of the Gilbrea Centre for Aging and Gilbrea Chair in Aging and Mental Health at McMaster University. You can follow her on Twitter @ Amanda__Grenier
Emily Sully is a Master of Arts (M.A.) candidate studying health and aging at McMaster University.
---
Have We Changed? Comparing Ancient and Modern Views of Aging
Have society's views towards aging changed since Antiquity? Three months ago, I would have thought modern society's views towards aging would be entirely different when compared to that of society over two thousand years ago. A seminar I am currently taking at McMaster University titled The History & Culture of Aging by Dr. Sarah Clancy led me to recognize many similarities.
In Ancient Rome, retiring from public life was difficult for the older population. There was no specific retirement age; however, there was a general consensus that after the age of 60, men could honorably retire from public life and live a life of leisure (Harlow & Lawrence, 2003). Ancient Roman society saw this withdrawal from public life as both positive and negative. The positive outlook embraced the individual's productive and self-gratifying lifestyle, whereas the negative outlook saw retirement as a means of socially marginalizing the individual (Harlow & Lawrence, 2003). Does this sound familiar? To this day, many people find it difficult to give up their job, possibly out of the same fears ancient Romans had – fear of social marginalization. This could be why countless people continue to work after their 65th birthday. In addition, modern society continues to have mixed views towards the retirement of older adults – some viewing it positively, and some regarding these individuals as not contributing to society.
Cato, a political leader in ancient Rome also discussed views towards aging that society continues to have today. He wrote that the "weakness of old age" should be resisted by a routine of "frugal eating, moderate exercise and intellectual pursuit" (Harlow & Lawrence, p. 24). This statement could be considered a form of "anti-aging" that we still see our society partake in today. Our society continues to be filled with pessimistic views towards aging, over-emphasizing on the negative side of growing old – as if it is something one should strive to resist.
Or rather, is Cato's view not so much an ageist remark, but a kindhearted strategy to help the older population manage with the physical or mental changes that are associated with aging? Maybe Cato is merely suggesting strategies for older people to live the best way possible for the period of life they are in. Modern society regularly encourages strategies to help deal with certain aspects of the aging process just as Cato did – such as exercise classes targeted to older adults or the promotion of mental stimulation for older adults. I at first thought that these views that have continued from Antiquity into modern times are ageist and yet another way that society is resisting aging. However, Graham Knight reminded me that every age group has a different way of dealing with certain aspects of the life stage they are in. For instance, children are encouraged by society to eat healthy breakfasts to help with their attention span and teenagers are encouraged not to smoke to prevent various diseases. This is no different than older adults being encouraged to eat healthily, exercise and participate in mental stimulation to decrease risks of mental or physical impairments that are often associated with aging.
It's interesting to see that views regarding aging formed over two thousand years ago persist to this day. These understandings of aging from Antiquity can teach us that we can still improve as a community to make Hamilton and the country more age-friendly. Both modern and ancient society seem to objectify older people as victims, and at the same time encourage meaningful strategies to age in the best way possible. Instead of emphasizing on the negative aspects of aging, we as a society need to focus on the positive aspects. What we need to resist is not aging, but the one-sided view of aging as nothing but problematic and negative. In resisting this negative perspective of aging, more and more of society will see it as the wonderful, multi-faceted natural part of life that it is. It is as Plato from ancient Greece said, "He who is of calm and happy nature will hardly feel the pressure of age, but to him who is of an opposite disposition youth and age are equally a burden" (Arnhoff, 1955).
Megan Acton is completing her Honours B.A. in the Department of Health, Aging & Society at McMaster University
References
Arnhoff, F. N. (1955). Research problems in gerontology. Journal of gerontology, 10(4), 452-456.
Harlow, M., &. Laurence, R. (2003). Old age in ancient Rome. History Today, 53(4), 22- 27.
---
HomeShare — Burlington Age-Friendly Seniors Council
HomeShare empowers Home Providers and Home Seekers the ability to live in affordable, shared accommodation inclusive of respect, choice, dignity and is of mutual benefit to all.
Due to the ever growing need of housing options in Halton, it is important to give careful consideration and thought to innovative solutions so that the housing needs of many can be met. One alternative is HomeShare, with a benefit for seniors, who wish to stay in their homes for as long as possible. Although HomeShare may not be the answer for some, for others it may provide the perfect solution, allowing and empowering seniors to remain independent and active, while developing meaningful relationships. It can be a win-win situation for the Home Provider and the Home Sharer and of mutual benefit for both.
Key Definitions:
Home Providers: people who are interested in sharing their home.
Home Seekers: people who are looking to share a living arrangement with someone for a variety of reasons.
Home Sharers: people who are currently living with a Home Provider.
The Halton HomeShare Toolkit has been developed by the Burlington Age-Friendly Housing Committee, as a self-resource guide for individuals who are interested in learning more about HomeShare or considering this as a housing alternative.
HomeShare is considered a living arrangement between two or more people who reside together in the same residence. Each person has his or her private space and will share common areas such as the kitchen and living room. Household responsibilities can be shared, or sometimes services can be exchanged for reduced accommodation expenses. Services may include; household cleaning, lawn and garden maintenance, shopping, taking care of pets, etc.
Home Seekers are people who are looking to share a living arrangement with someone for a variety of reasons.
The benefits of HomeShare can include the following:
Companionship and security
Reduce isolation
Affordable
People can remain in their own community
Promote well-being
Mutual benefit for the Home Provider and Home Seeker
Every HomeShare situation is unique with its own successes and challenges. We are aware that this is not an answer for all, and that it is important for individuals to consider a variety of housing options before making any decisions.
HomeShare is a living situation that can be of mutual benefit to all involved and is about people helping each other.
June 2015
---
Aging in Community
Connecting with another person is a deeply fulfilling experience. When a group of people purposefully stretch themselves, by connecting to each other beyond the borders of selectivity and commonality, a profoundly hospitable community is created — a community in which belonging, contribution and accomplishment occur regularly and naturally. Now that's something to look forward to during one's second journey through life!
~ E Headley
Aging with resilience can be an exciting journey if we broaden our vision to seek innovative ways to foster aging in community. It is time for us to embrace our interdependence – to move past the North American focus on independence. We dream of a good old age of mutual support and connections – creating many options beyond the two modern established paths: aging in place in frailty (often isolated, without support) or moving into an institution. Calls for sustainability and austerity budgets everywhere add to the emerging cry for new alternatives.
The underlying values are very similar to those espoused by baby boomers in the 1960's: desire to rediscover ourselves and live more authentically, to live simply, to reconnect with nature. Aging with community aims to be inclusive, sustainable, healthy, accessible, interdependent, and engaged.
Senior Cohousing Model
Adapting the European approach to senior cohousing for Canada, these innovative seniors-led housing communities support optimal aging. Senior cohousing combines private home ownership with shared amenities (small private space with large common space), lower energy use, governed by residents, neighbourly cooperation, and an emphasis on flourishing through mutual support. Members volunteer for various roles according to their time and talents. Variations include subsidized units, intergenerational housing, intergenerational outreach. Most cohousing communities are located within a broader neighbourhood with easy access to services and opportunities.
Village to Village Model
The Village Model offers a non-housing approach to creating and sustaining a mutual support network within a specific geographical area. The fast-growing Village to Village Network already supports 200+ Villages across North America. The most frequent services offered by these mostly-volunteer, seniors-led villages are: information and referral, transportation and shopping, household and computer maintenance.
Aging Together
Our local Aging in Community group, initiated in the Fall of 2013, has been growing in experience and membership. A small core group is committed to learning together how to provide mutual support and to create community in our everyday lives. A much larger group, interested in aging in community, receive periodic updates of our activities and relevant resources. We presented a panel for the Gilbrea Centre for the Studies of Aging at McMaster University last June – thereby recruiting potential members and broadening interest among seniors and academics in the concept. This past November, we celebrated our first anniversary with a Naming potluck party – choosing Aging Together. We will present a panel in Westdale on June 4th on Home Sharing Options.
"Aging in Community": https://www.youtube.com/watch?v=0GiToYHaGTs&feature=share&list=PL4BAB5EDB6087FF00&index=7

With the help of friends, I have prepared a 9-minute video on Aging in Community. I raise issues about the meaning of a good old age, discussing how my focus has shifted from individual aging to growing old in community. Brief descriptions of mutual support groups and seniors cohousing are included.
For further information, see Resources on Aging in Community: http://writingdownouryears.ca/resources/aging-in-community/
Ellen Ryan is Emeritus Professor, McMaster University, Hamilton, Ontario.
---
iPad Skills For the 65+ Community
With new devices, applications, and websites popping up daily, new possibilities are arising for us to use technology as a means of bettering our health and well-being. In particular, devices such as iPads and other tablets create new opportunities for older adults to become more engaged both mentally and socially. For some, using an iPad may even empower them to play a more active role in their healthcare. While many of the potential benefits of using technology later in life have yet to be explored in research, I believe it holds great promise.
Applications and tools such as Facebook, instant messengers, and email may serve to easily connect older adults with loved ones, while also closing the generational gap between themselves and younger family members, grandchildren, etc. However, social media sites and email only represent the tip of the iceberg when it comes to seniors and iPad use. Advancements in both technology and research have led to an abundance of innovative applications supporting older people, including those with varying dementias, history of stroke, depression, and so on.
Through my work with the Regional Geriatric Program, based out of St. Peter's Hospital, I have been fortunate enough to engage with many local seniors and teach them how to use iPads. In doing so, I have been able to witness firsthand the benefits that can arise for seniors who learn to use technology.
While visiting a local retirement residence several weeks ago, I had the opportunity to work with a 78-year-old resident who had recently suffered a stroke. Within 15 minutes we had downloaded a free app called "This is to That" and had worked through a series of logic puzzles. When I came back the next week, I was amazed to see how much of an improvement there had been for him. Not only had he improved his accuracy and response time to the logical reasoning questions, he expressed to me that he felt a sense of accomplishment from using his iPad.
Over the course of the winter I have seen countless other seniors connect with their iPads to accomplish a variety of meaningful goals. Some of the outcomes include:
setting up online banking
watching educational YouTube videos
borrowing an eBook from the Hamilton Public Library's application
video calling family members in other provinces and countries
reading informative articles about health, lifestyle, and finances
logging physical activity into a fitness application.
As exciting and multifaceted as these accomplishments may seem, they still only begin to scratch the surface of what older adults may achieve when they engage with iPads and similar technology – particularly for those with diverse mobility and accessibility needs. Unlike some laptop or desktop computers, portable iPads and tablets are very accessible. Many come preloaded with "text-to-speech" software, enabling seniors to have their device read text aloud to them – a feature that has been quite useful for those with visual impairments, or difficulty with reading comprehension. Additionally, stylus pens can be highly effective in assisting those with fine motor impairments or tremors navigate the touch screen. The ease of access also allows users to complete tasks that would otherwise require them to make a trip into the city (i.e. library, bank), from the comfort of their residence – a benefit that is especially useful during long Canadian winters.
As mentioned, many of the practical uses seniors may find for their iPads have not been fully explored or documented. Although, feedback thus far suggests that the 65+ community is excited to learn iPad skills, and that mental stimulation and knowledge acquisition are among the greatest advantages they are experiencing as a result. It is my hope that as more seniors connect to the digital world we will be able to better integrate technology into programming and practice for our aging population going forward.
Rachel Weldrick is a Program Coordinator at St. Peter's Hospital and McMaster University. You can follow her on Twitter @RachelWeldrick
---
Walking city streets
The other day I was watching my neighbour teaching her son some rules for being on the sidewalk, and it brought to mind a rhyme learned many years ago:
Two's company, three's a crowd,
Four abreast on the sidewalk is not allowed!
The City of Hamilton says that sidewalks are for pedestrians, but what exactly is a pedestrian?
I was taught that a pedestrian was anyone walking on two feet. The definition the City now uses includes anyone on foot, using a walker, manual wheelchair, motorized wheelchair or scooter. Baby strollers and bundle buggies are also allowed. Our sidewalks have become crowded, and at times even dangerous places to walk.
Most sidewalks in Hamilton are 1.5 metres wide; the City is attempting to make new ones 2 metres wide where possible. This is certainly a positive move forward, as in many areas the sidewalks have reached or exceeded their maximum capacity.
We have all seen pedestrians on foot forced onto the roadway, either by motorized vehicles cutting across their path or by large groups of people walking abreast and occupying all the available sidewalk space.
As society is now encouraging people to use their cars less, for reasons of both the environment and personal fitness and health, I think it is time to consider giving pedestrians on foot the right of way on sidewalks. This simple courtesy of giving way to those on two feet will make being out and about on City streets a safer, more pleasant, experience for all of us, and will help Hamilton on its journey towards becoming an Age-Friendly city.
Penelope Petrie is a member of the Board of Directors for the Hamilton Council on Aging.
---
HCoA – The Beginnings
One day, about 10 years ago, Margaret Denton and Anju Joshi, my colleagues in Gerontological Studies at McMaster University, suggested we have lunch. They knew about the highly successful Council on Aging in Ottawa and thought Hamilton would benefit from one. Since I was newly retired, they thought I might be interested in heading up an initiative to pursue this idea. I agreed and HCOA began to dominate my life for the next 8 years!
Why did we think Hamilton needed a Council on Aging? Although there were other organizations in the city that served older adults as part of their mandate, no organization focused solely on older adults or had a mandate to advocate and educate on their behalf. As teachers and researchers in the field of aging, we knew that the aging of the population, coupled with the aging of the postwar baby boom, meant there were significant age-related issues that were growing in urgency and that needed to be addressed at both the individual level and at the level of social policy. We thought that having an organization dedicated to advocating for older adults would help ensure that when broader issues – such as health, transportation, social participation, housing, or income security/poverty – were being discussed and addressed, the particular needs and interests of older adults would always be raised for consideration.
Our first step was forming a working group. We brought together individuals from different areas of activity who had some involvement with aging issues and older adults. Although people sat at the table as individuals rather than as representatives of organizations, we had people from the Social Planning and Research Council of Hamilton, Catholic Family Services, McMaster University, the YWCA, St. Peter's Hospital and others.
We met over a number of months to discuss why we thought establishing a Council of Aging in Hamilton would be a good idea, how we thought it should function, who should be included in our ongoing discussions. There were times we felt we were talking a lot but not getting very far, but then members of our group who had more experience in forming new organizations reassured us that taking time at the beginning to build strong foundations would pay off in the long run. We grappled with the question of whether board members should represent organizations or simply serve as individuals; ultimately, we decided the latter would best serve the organization. However, we knew from the start that forming partnerships with other organizations in the community would be vital and a key to future success.
Over these months, we had some special sessions led by a skilled facilitator. This process was very helpful in focusing our thoughts, establishing a mission and vision statement, and principles by which we felt we should operate. Our mission statement has guided us over the ensuing years: "The Hamilton Council on Aging exists to educate, advocate and improve life for older adults through a collaborative network of individuals and organizations."
A key principle of HCOA is that it is senior-driven. HCOA seeks to enhance the quality of life of older adults. The Council was very fortunate in getting support early on from the Hamilton Community Foundation. A small but crucial grant enabled us to hire someone to conduct focus groups with older adults in Hamilton to see what their key priorities were.
One of our members was instrumental in setting up a relationship between HCOA and St. Peter's Hospital. St. Peter's gave us space for a real office, a luxury we hadn't had to this point, and provided other technical and administrative support.
With help donated by Winchie Law, we incorporated and successfully obtained charitable status.
And a key step in our early years was obtaining funding from the United Way of Burlington and Greater Hamilton. We have been receiving funding every year since and are very proud to be a United Way agency.
About a year or two after HCOA began, we became aware of the world-wide Age Friendly Cities movement that emerged from the World Health Organization. We became very excited by the prospect of working to make Hamilton an age friendly city. We were successful in obtaining a grant from the Trillium Foundation that enabled us to hire an executive director and begin to tackle the long-term project to create an age-friendly Hamilton. We are, of course, still very much engaged in this activity. We are now at a very exciting point where we are working with the City of Hamilton and other partners to formulate a Seniors' Strategy for the City of Hamilton.
HCOA continues to evolve in response to community needs. For example, the Council was fortunate in establishing a close relationship with the former Council on Elder Abuse. The Council joined HCOA and was renamed the Committee on Elder Abuse. This has allowed HCOA to make the issue of elder abuse a central part of its strategic plan. This committee of HCOA is very active and keeps public and government attention focused not only on the problems that exist but also on the avenues address them.
While I finished my second and last term as a member of the HCOA Board in 2013, I continue to follow its activities with interest and pride. I can't think of a more satisfying way to have spent the past 10 years than to have helped build the Hamilton Council on Aging.
Carolyn J. Rosenthal
Carolyn Rosenthal was a founding member of the Hamilton Council on Aging and currently sits on the Council's age-friendly committee. She served on its Board of Directors for 6 years, including 3 years as Board Chair. She is Professor Emeritus, Sociology and Gerontology, McMaster University. She was a founding member of Hamilton Third Age Learning and currently serves as that organization's Vice-President.
---
The Movement for Age-Friendly Cities and Communities: What is it and where did it begin?
As people and populations age, more and more responsibility has been placed on older adults to optimize their health and well-being through life style choices including exercise, nutrition, tobacco session and weight maintenance. Good advice, but it focuses the 'blame' for the' costs of aging' on individuals. Too often the responsibility of governments and communities to create social and physical environments that allow optimal aging is neglected.
Population aging raises many questions for policy makers on how to provide for the needs of the aging population and older individuals. In 2002, the World Health Organization (WHO) published Active Aging: A Policy Framework where they defined active aging as " the process of optimizing opportunities for health, participation and security in order to enhance the quality of life as people age." This concept informed the Second United Nations World Assembly on Ageing held in Madrid Spain that was attended by over 150 countries worldwide. At this assembly, Governments from around the world adopted an International Plan of Action on Ageing, 2002, to respond to the opportunities and challenges of population ageing and to promote a society for all ages. In Canada this led to Special Senate Committee on Aging report titled Canada's Aging Population: Seizing the Opportunity (2009) which was followed by a Government of Canada response.
In 2006 the World Health Organization (WHO) introduced the concept of age-friendly cities to refer to "an inclusive and accessible urban environment that promotes active ageing". Age-friendliness is defined in terms of a eight domains of life that span the physical and social environment including outdoor spaces and buildings, transportation, housing, communication and information, respect and social inclusion, community support and health services and opportunities for social participation, civic participation and employment. 33 cities from 22 countries world-wide, including 4 from Canada, took up the challenge to become age-friendly in phase one of the WHO age-friendly cities project. More recently the initiative has been renamed to become age-friendly cities and communities to be inclusive of smaller and rural communities. Public Health Canada has played a leadership role in supporting the age-friendly communities initiative in Canada and hundreds of Canadian communities are now engaged in age-friendly planning including about 50 in Ontario. The Ontario Seniors Secretariat has published a resource guide to help communities become age-friendly titled Finding the Right Fit Age-Friendly Community Planning that can be found on their website. Municipalities can apply to become part of the WHO Global Age-friendly Cities and Communities Network if they commit to a three step stage process of planning, implementation and evaluation.
The Hamilton Council on Aging began their work to making Hamilton age-friendly in 2008 speaking with older adults across the City of Hamilton on the barriers to age-friendliness in their community and making 92 recommendations to address these barrier . See Hamilton a City for ALL Ages and Hamilton a City for ALL Ages: Three Years On; both reports are available on the HCoA web page. The WHO suggests that the route to an age-friendly community is through the development and implementation of a community wide action plan. The Hamilton Council on Aging and its community partners are currently working with the City of Hamilton on the development of an age-friendly action plan. We are in the process of consulting with older adults across Hamilton as well as key stakeholders in the various domains to ensure that we come up with a set of workable recommendations. A copy of this plan will be available on our website early next fall.
Dr. Margaret Denton is a Professor of Health, Aging & Society at McMaster University and a founding Board Member and Past President of the Hamilton Council on Aging.
---
Welcome to HCoA
HamiltonCouncil on Aging (HCoA) decided that now is the right time to inaugurate a blog. As president, I want to be first to post on this blog and welcome you to the blog.
HCoA is about seven years old and during that time our projects have enhanced the lives of many seniors. HCoA exists to educate, advocate and improve the life for older adults through a collaborative network of individuals and organizations. A key role for HCoA is to collaborate and create partnerships within the community. Seniors' engagement is a broad goal of HCoA. We value the participation of older adults and rely heavily on the time and expertise given by older adults in all that we do.
Here are some of the ways in which we are involved:
· Working in partnership with the City of Hamilton in developing The Older Adult Plan towards establishing Hamilton as an age-friendly city. Focus groups are planned to meet in April and May to obtain public input.
· Let's Take the Bus providing information in an effort to increase opportunity for participation and to decrease isolation. An interpreter assists at the workshops in providing translation to the ethnic group in attendance at the workshop.
· The Committee for Prevention of Abuse of Older Adults a part of the Health and Wellness Expo "Steps to Aging Healthy" on June 23, 2014.
· Through our Improving Access for Seniors from Diverse Communities programme facilitating workshops for service providers to increase their capacity to serve diverse cultures. Also, working along with CityHousing Hamilton to increase knowledge of and ability to navigate the system of programs and services available to them.
· Improving Access to Information for Individuals 55+ in Dundas – working with various community partners to develop and install information kiosks in key places throughout Dundas such as the Dundas Public Library. As soon as funding is in place, we will hear more about this project.
· Let's Take a Walk project – 35+ senior volunteers set to participate in age-friendly audits of approximately 18 of Hamilton's Recreational Trails.
I have told you some highlights of our activities that are in progress now. We want to hear from you. You may want to post to this blog (if so, write to us at hcoablog@mail.com). If you would like more information, please check out our website at www.coahamilton.ca.
Mae Radford
COLLABORATING ORGANIZATIONS
Hamilton Council on Aging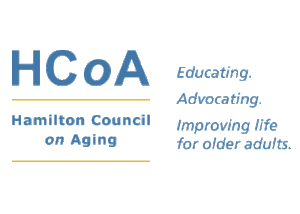 The Hamilton Council on Aging (HCoA) is a senior-driven initiative that was founded by a group of concerned citizens in the community.
HCoA is a non-profit, charitable organization dedicated to enhancing the quality of life of all seniors in Hamilton.
Our strength is in our membership. A volunteer Board of Directors, subcommittees, as well as HCoA staff, volunteers and community partners work together to support current projects and community initiatives.Visit Hamilton Council on Aging's website St. Joseph's Home Care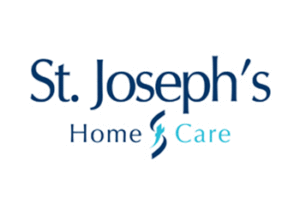 Since 1921 St. Joseph's Home Care has provided high-quality, values-based home and community services in a spirit of compassion and dedication. We have evolved from a nursing agency to offering a much broader range of services, and our steadfast commitment to delivering exemplary client-focused care to the Hamilton community continues. Our efforts to live our quality promise were rewarded in 2014 when SJHC achieved Accreditation with Exemplary Standing.
At SJHC we tailor our home care programs to meet the needs of each individual client. We serve a wide variety of clients with diverse cultural and socio-economic backgrounds. As a faith-based organization, we are committed to serving all clients regardless of their beliefs or background. Our organization reflects the diversity of ethnicity, culture and religion in our community. We understand and respect each individual's requirements and are sensitive to each individual's beliefs and spiritual care needs.Visit St. Joseph's Home Care's website AbleLiving Services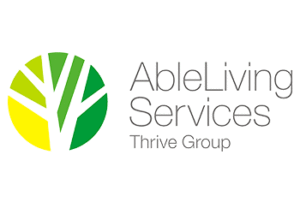 AbleLiving is a non-profit charity that has been serving adults with physical disabilities for more than 35 years. We provide the assistance that people may need to manage their lives as independent adults. In addition to a wide array of supportive care options, we offer training in life skills, self-development, falls prevention, and dementia care. Among our clients are adults with physical disabilities, elderly people who are becoming frail, and family members who need respite from the role of caregiver. We provide services and accommodation in several communities: Burlington, Binbrook, Mississauga, Stoney Creek, and Hamilton.Visit AbleLiving's website Gilbrea Centre for Studies in Aging (McMaster University)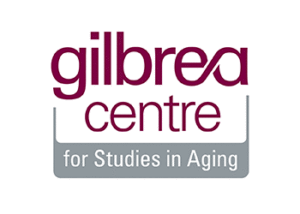 The Gilbrea Centre is an interdisciplinary research hub that is dedicated to addressing issues of aging through collaborative and policy-relevant research. The Centre produces and disseminates knowledge that helps to broaden the understanding of aging, addresses the challenges that exist, and suggests directions for change.
Our vision is to address the needs of an aging population through collaborations with researchers, educators, community organizations, and older people. This research extends beyond McMaster's campus through partnerships across various sectors at both the national and international levels.Visit Gilbrea Centre's website Thrive Group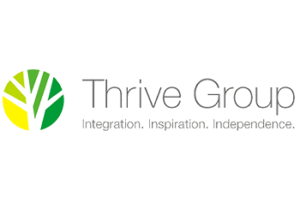 Thrive Group provides a spectrum of integrated services to support and care for individuals, and help them to live as independently as possible. By bringing together like-minded organizations, Thrive Group develops and delivers quality services that are responsive and innovative; enhances collaborative approaches to service provision; informs government directives; influences health care system transformations; and creates efficiencies and reduces duplication.Visit Thrive Group's website Wesley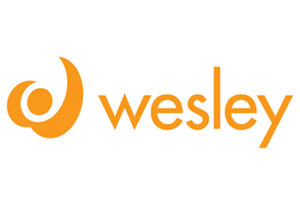 Wesley offers daily support, every step of the way, to over 1,250 children, youth, adults and seniors living in poverty in Hamilton. As a multi-service organization, Wesley has a portfolio of over 30 different programs in 19 locations in the areas of Children, Youth & Family Services, Housing & Homeless Services, and Neighbourhood & Newcomer Services. The long-term impact of our programs includes improved education, successful employment, and supportive independence. Wesley has been responding to poverty in the Hamilton community since 1955, when a seniors' outreach program began in the basement of Wesley United Church in downtown Hamilton. Wesley's services are possible through a broad base of funding support from government, business, foundations, individuals, and churches.Visit Wesley Urban Ministries' website YWCA Hamilton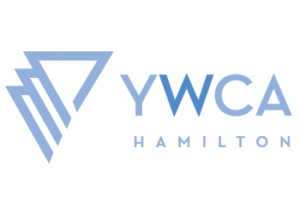 YWCA Hamilton has been a part of the Hamilton community since 1889. As a women's-led organization, YWCA is committed to offering valuable programs and services to groups of all ages with diverse backgrounds and needs. The organization is engaged in community collaborative activities and planning groups to work with government and non-profit partners in a variety of sectors to improve the quality of life for women and their families. These collaborative activities and community planning initiatives address issues including but not limited to poverty, housing and homelessness, violence against women, child care, adults with developmental disabilities, youth services, and supports for an aging population.Visit YWCA Hamilton's website
TEAM LEADS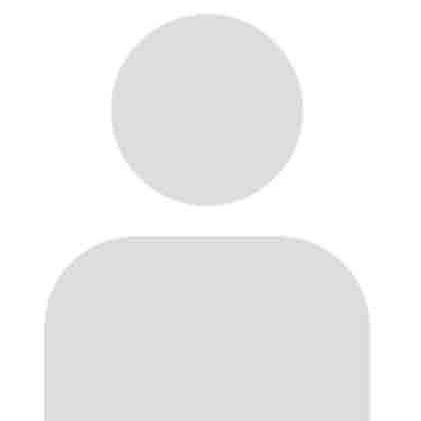 Kim Russell
Team Lead
Thrive Group
CareDove – Interactive Community Access and Referral SystemPersonal blog / websiteE-mail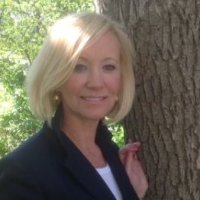 April Morganti
Executive Director
AbleLiving
Hospital Care Connectors for Isolated Seniors, Hamilton Health SciencesPersonal blog / websiteE-mail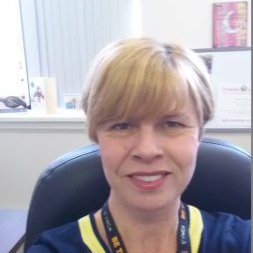 Marnie Warman
Manager, Health and Wellness Programs
YWCA Hamilton
Peer Connectors for Isolated SeniorsPersonal blog / websiteE-mail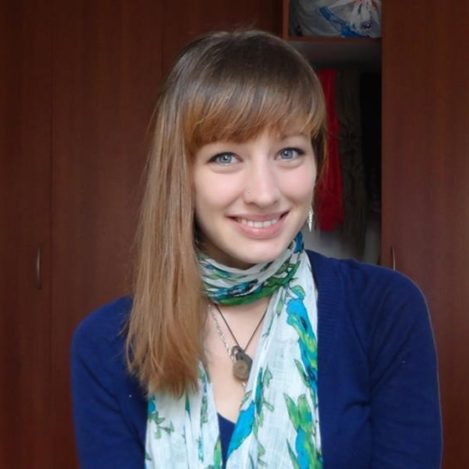 Tara-Lyn Prindiville
Project Manager
Hamilton Council on Aging
Connecting Hamilton's Initiative to Reduce Social Isolation Among Seniors Personal blog / websiteE-mail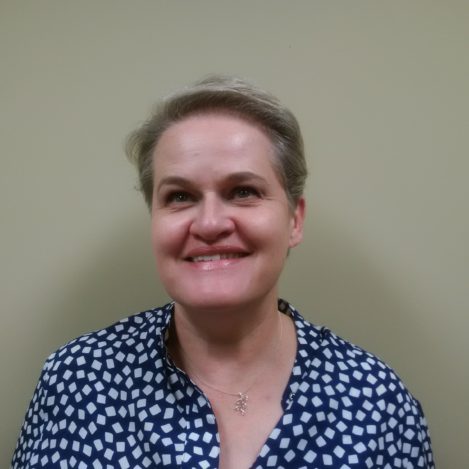 Rebecca Buckland
Senior Manager, Community Support Services
St. Joseph's Home Care
Hospital Care Connectors for Isolated SeniorsPersonal blog / websiteE-mail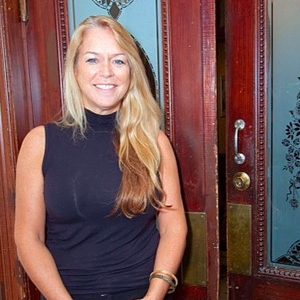 Linda Gohren
Project Lead
Wesley
Seniors Community ConnectionsPersonal blog / websiteE-mail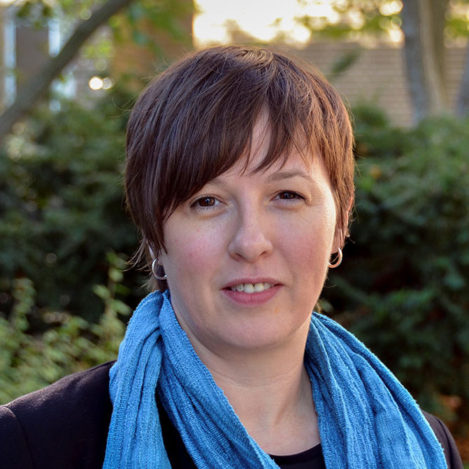 Amanda Grenier
Director
Gilbrea Centre for Studies in Aging
Participatory Research InitiativePersonal blog / websiteE-mail
---
PROJECT OVERVIEW
What the Hamilton Seniors Isolation Impact Plan (HSIIP) is all about
Social isolation is a growing problem in Canada, and our seniors are especially vulnerable. Risk factors include the following:
living alone (after the death of a spouse, for example)
disability
poor health
language barriers
poverty
lack of access to services and other supports
There are currently almost 12,000 isolated seniors in the Greater Hamilton region, and they are the primary focus of the Hamilton Seniors Isolation Impact Plan (HSIIP).
The project will initially focus on at-risk seniors in target neighbourhoods and hospitals. Our team will work to connect individuals in need with existing services and social opportunities across the Greater Hamilton area. Goals
Our long-term goal is twofold:
to measurably reduce social isolation among seniors, and
to build our community's capacity to identify, reach, and connect isolated seniors—preventing isolation in the future.
Media Contacts
---