Hamilton Group Launches Newsletter: Living Well with Alzheimer's & Other Dementias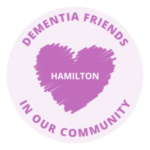 Hamilton Group Launches Newsletter: Living Well with Alzheimer's & Other Dementias
Local Individuals Share their Experiences to Dispel Common Myths & Create Positive Change for People who Live with Dementia
February 25, 2022 – Dementia Friends in Our Community (Hamilton) is a group of talented and passionate individuals who came together almost a year ago around a shared experience — they all live with dementia! This group from Hamilton, ON wanted to create positive change for others who live with dementia, their families, and the community by sharing what they have learned through their personal challenges & experiences, and the newfound perspective they have gained.
We are all LIVING with dementia: different people, different ages, different stages, different experiences, different perspectives!

People who live with dementia are still themselves — they are still here — they are still able to contribute and continue to live as well as they can each and every day."

~ Dementia Friends in Our Community, Hamilton
We are excited to launch our newsletter: Living Well with Alzheimer's & other Dementias. Our first edition- Winter 2022, is centred around the theme: 'My Diagnosis'. It explores the experiences and feelings surrounding Doug's diagnosis with Alzheimer's disease, alongside those of his wife Joyce as his partner. Debbie discusses the emotional journey she experienced with her diagnosis and some tools and strategies that helped her regain her sense of self. Phyllis provides an education piece on dementia and explains why it is important to learn as much as you can about your diagnosis to live as well as you can through the different phases and stages of your own journey.
Our goal with this newsletter is to challenge how people think about living with dementia.  From 'Dementia-Experts' to the cashier at our local variety store, education and re-education is paramount to challenge perceptions and improve how we do things. Please read our newsletter! You might be surprised about what you learn when you remain open-minded and look at things a little bit differently – through the eyes of somebody with lived-experience!
Please Share your Story! We invite fellow Hamiltonians who live with dementia to be featured in an upcoming edition of our newsletter by contacting Shelagh at shelagh@hamiltoncoa.com or 905-920-7721

Please Share your Comments and Topics you would like included in upcoming editions by contacting Shelagh at shelagh@hamiltoncoa.com or 905-920-7721
For Media Inquiries, please contact Shelagh at 905-920-7721 or shelagh@hamiltoncoa.ca