MEMORY+
Inclusive
Communities
Everywhere (M.I.C.E. Haldimand)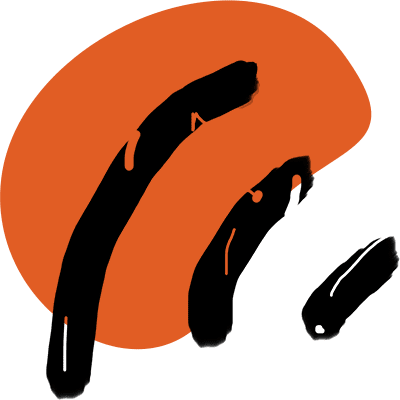 We are M.I.C.E. Haldimand (Memory+ Inclusive Communities Everywhere) – a group of citizens from Haldimand county who are sharing our experiences with memory loss and other cognitive challenges to inspire positive change. Our goal is to create a more understanding, helpful and inclusive community for everyone!
LET'S GET RID OF THE "D" WORD CONTEST: Help M.I.C.E. Haldimand "Rename" Dementia!
M.I.C.E. Haldimand (Memory+ Inclusive Communities Everywhere) is seeking your help to "RENAME DEMENTIA!' As individuals who have been described as having "dementia," we want you to know that we STRONGLY DISLIKE the word and want to stop using it!
DID YOU KNOW?  In North America, the word "dementia" is commonly used by medical professionals and the public alike to describe numerous conditions with symptoms of progressive cognitive decline – thinking, remembering, reasoning, etc. The trouble is that the word dementia further stigmatizes and perpetuates misunderstanding around conditions that already carry heavy stigma and misunderstanding. Just thinking about the origin of the word, it is easy to understand why. The word "dementia" can be traced to the Latin "demens" meaning "out of one's senses, insane, raving, or foolish." These are certainly not terms that we want to be associated with, nor are they remotely accurate!
M.I.C.E WANTS TO RENAME DEMENTIA TO CHALLENGE STIGMA! In a world where we hope to re-educate about what it means to live with "dementia," we feel compelled to begin by "RENAMING DEMENTIA.
We are individuals who are valuable, unique, intelligent, and making great contributions to our community. Please help us identify a new term to reflect this!
CLICK HERE TO PLACE YOUR VOTE ONLINE OR print Let's Get Rid of the D Word Contest
On March 1, the M.I.C.E. Team will review submissions and pick a new term, which they will use moving forward.  Thank you in advance for your participation and for being part of positive change to create more inclusive communities for everyone!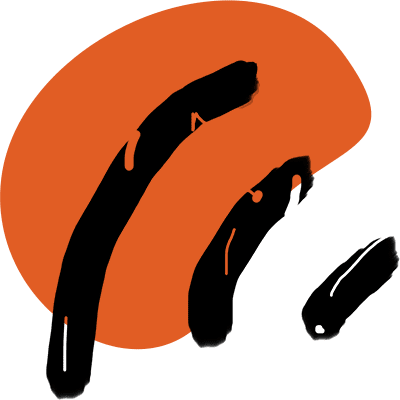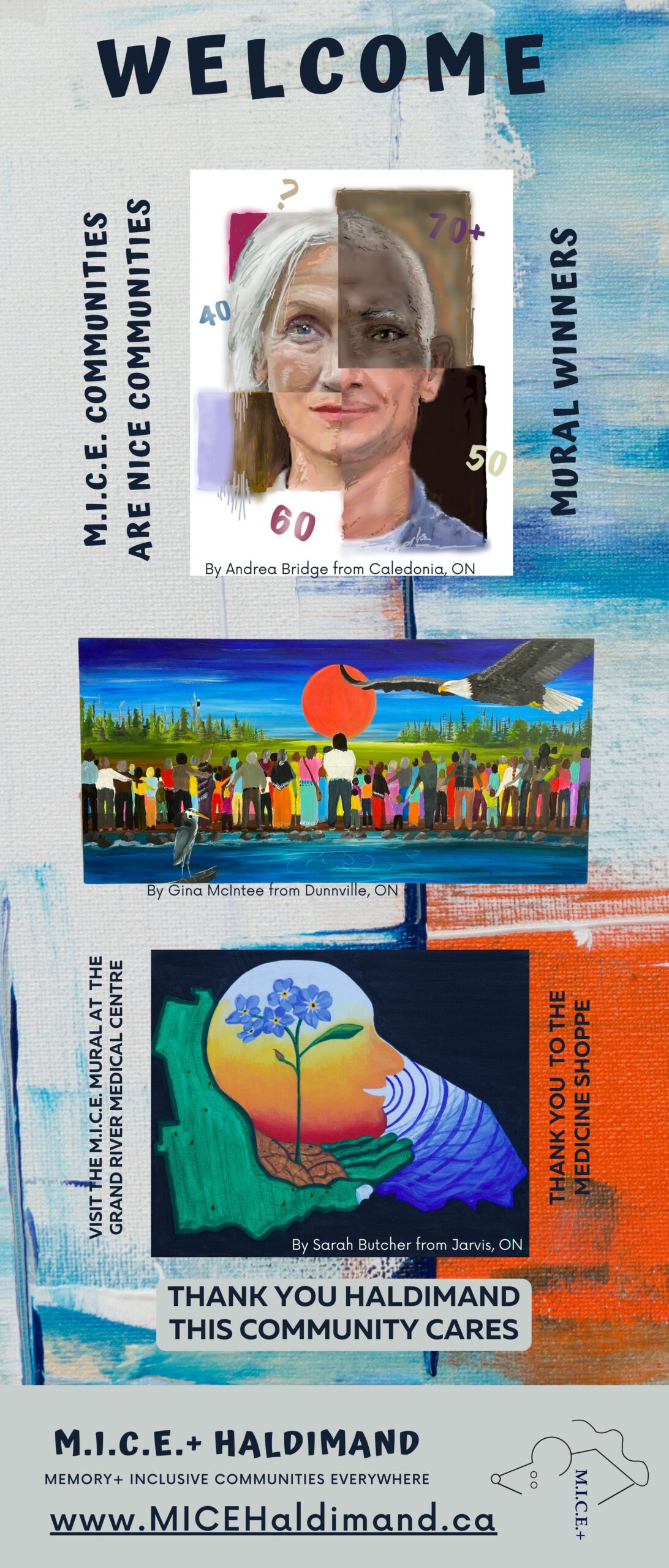 Visit the M.I.C.E. Mural at the Medicine Shoppe, 55 Argyle St., Caledonia!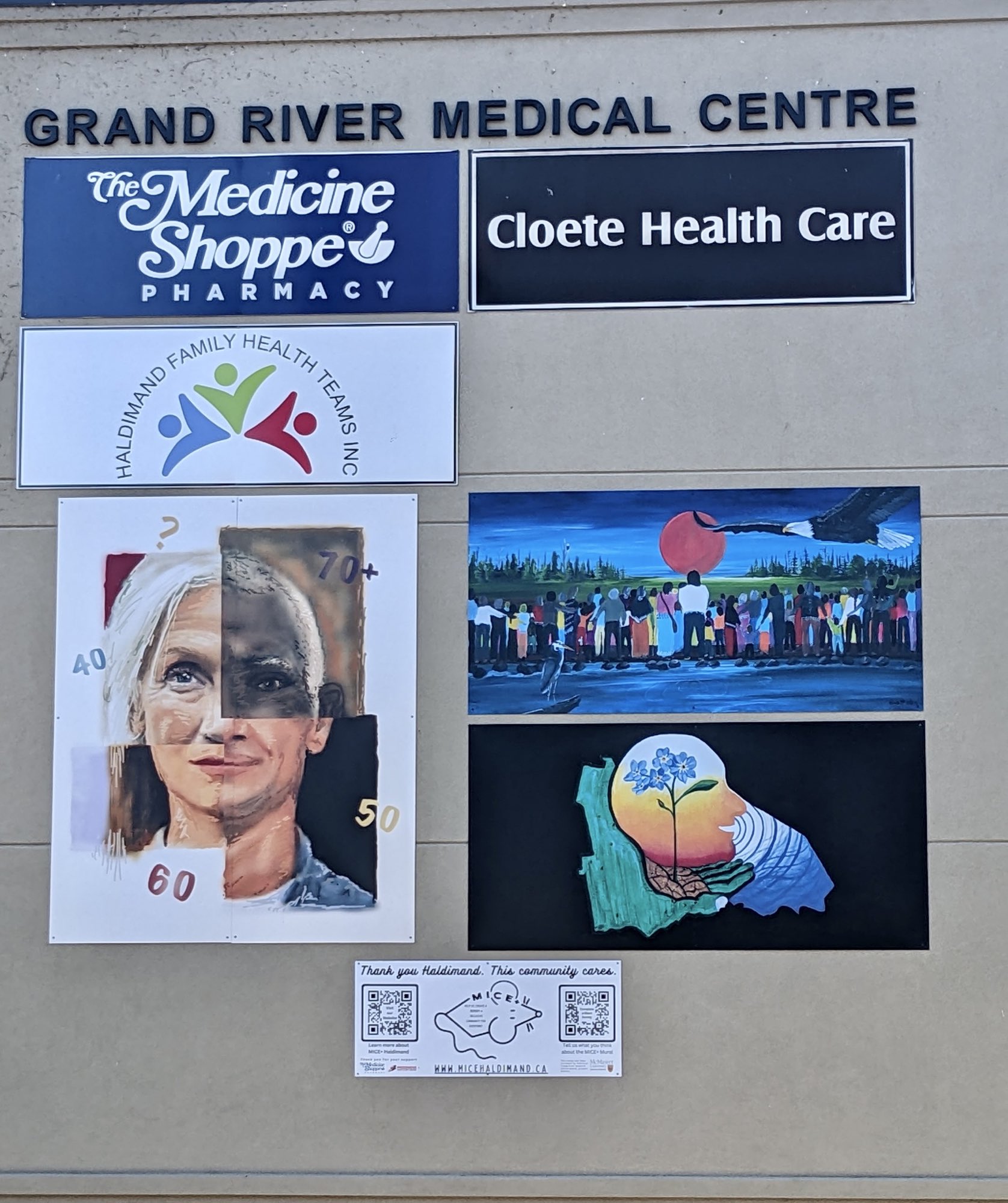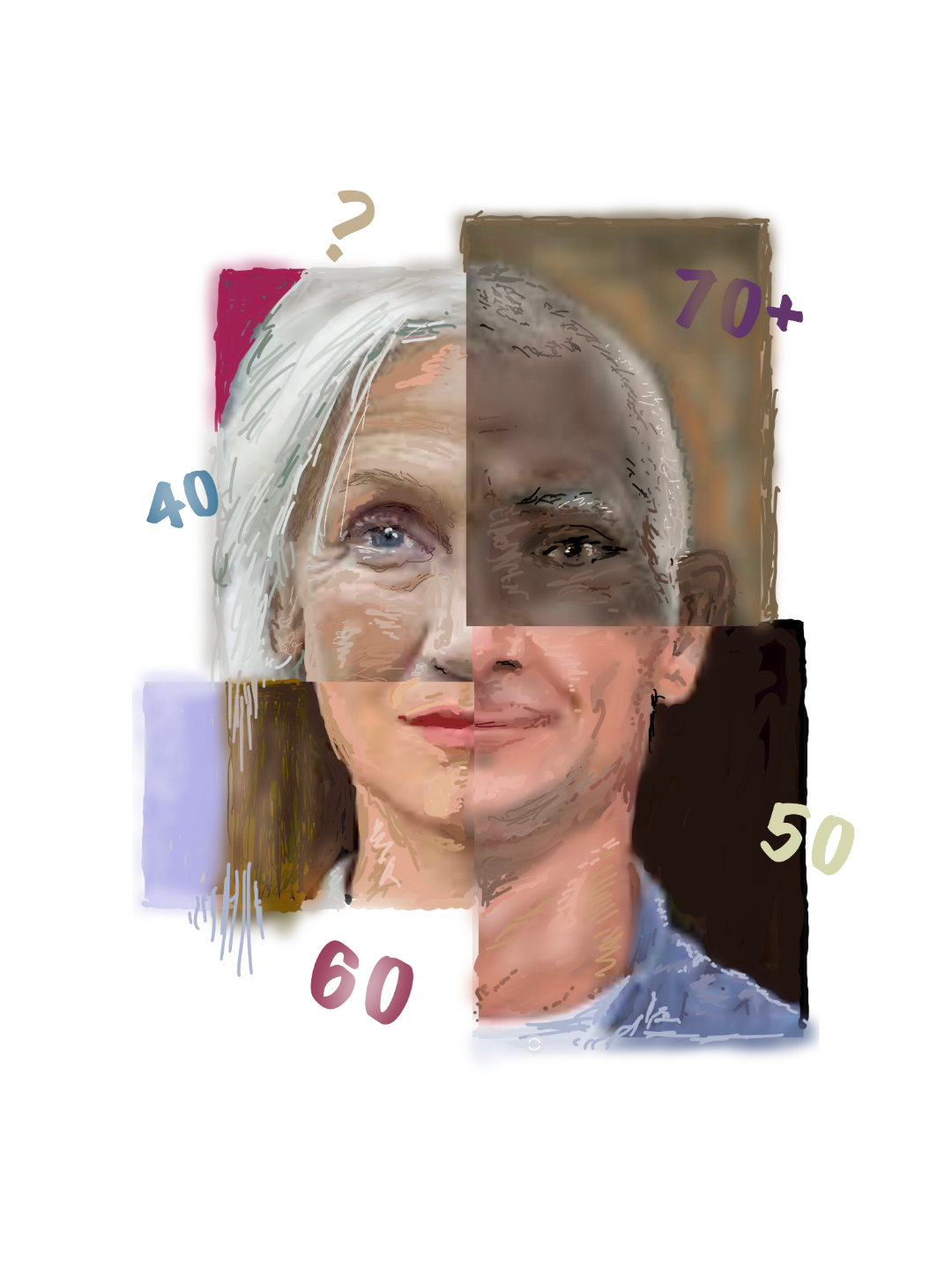 My initial idea for this piece was dementia can happen to anyone. Different ages (younger than a lot of people think). It is slowly robbing me of so much except my art. I wanted to show that you can't tell by appearance, but we need to be aware as a community. I want my picture to make people want to know more. I'd love people to say how can I help. I want to be a part our community. There must be other people like me❤️.
Andrea Bridge
1st place
Caledonia
I have always drawn. My mum kept all my scraps, one was dated from when I was 2 of a bear. I love oil paint, clay, sculpture and just about anything. I am 53 and I live with my wife and 3 teenagers. I have 6 cats. I've never really fit in to the "art" world, but I love going to galleries and museums. Other artists always inspire me to keep creating. Since being diagnosed 5 years with Alzheimer's I am loving art even more than ever.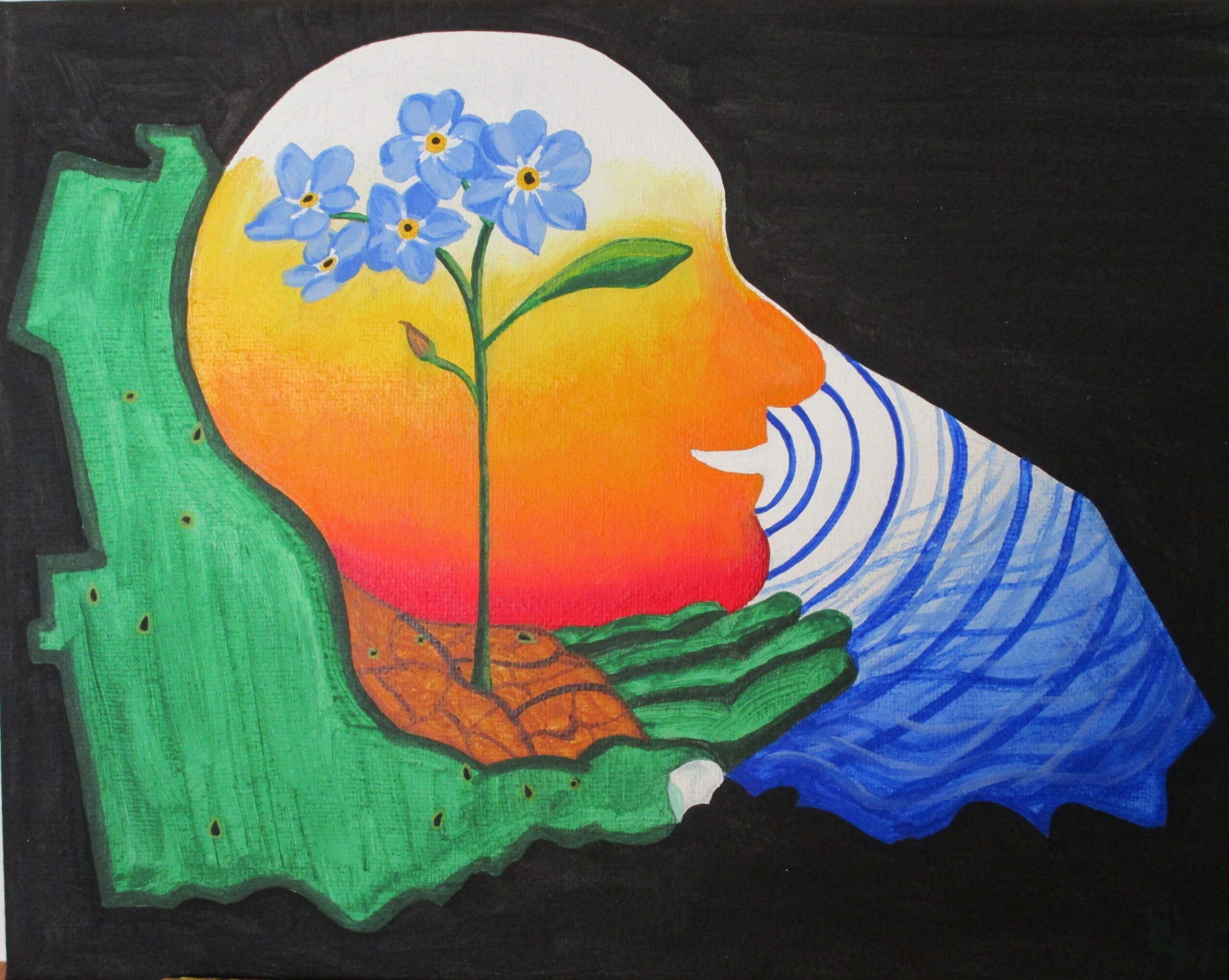 To show an inclusive community, I depicted all of Haldimand County, the Six Nations of the Grand River and the Mississaugas of the Credit First Nation reserves in the overall shape of my design. I used Forget-me-not flowers as a symbol of dementia and situated the blooms where the brain would sit in the profile. Small black seeds have fallen from the flower to show ideas being planted; the seeds are situated approx. where towns are located. The green area transforms into an open palm, holding the roots of the plant in 'Haldimand clay' to show support and a cycle of regeneration. The mouth of the profile is open and emanating sound waves which merge into ripples at water's edge. I used gradating sunset colours to bring attention to the silhouette. They represent an age element but also brightness, warmth, and positivity. I hope the overall impression of this mural shows that thoughts, hands, and voice are always invited to be shared in a dementia-friendly community! 
Sarah Butcher
2nd place (tie)
Jarvis
I've been a resident of Haldimand County all my life- growing up in Cayuga and now raising a family in Jarvis. I've always had a natural, artistic ability and am most happy when creating something. My storage room is full of "bits and bobs", paint, and other misc. supplies awaiting transformation by my amateur hands. I decided to enter the contest because as an active volunteer myself, I see firsthand what it means to belong to a community and also serve that community. I'm grateful to listen, learn, and team up with those who bring their life experience into initiatives.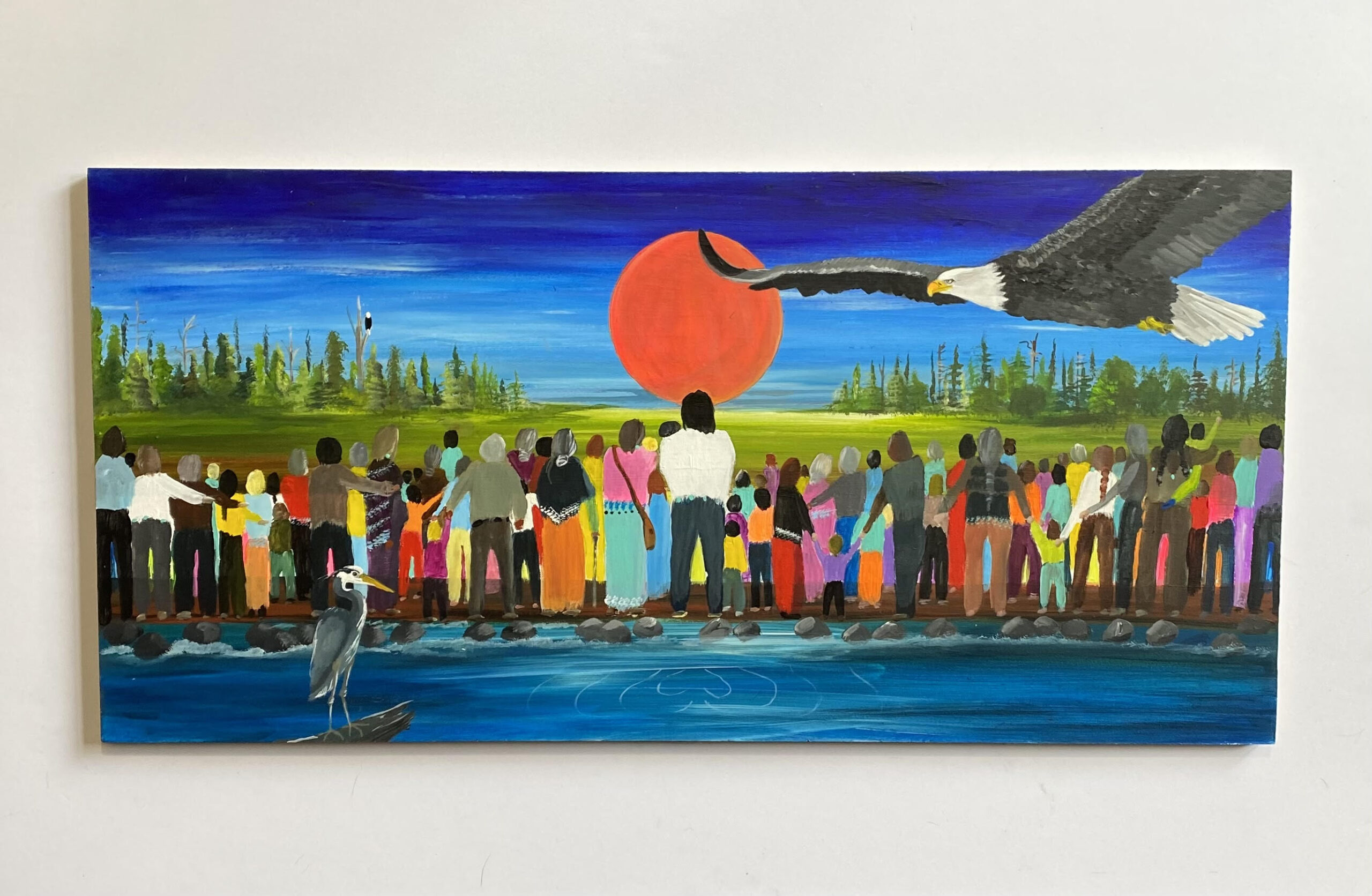 "Spirit of Community" is an image with the rising sun, a new day, a new beginning, the Eagle soaring… acknowledging the gathering, seeing life from a higher perspective. The foreground represents the Grand River that flows and connects all communities in Haldimand. The grand ripple effect is the flow of "hearts" love within our community. The Blue Heron is a symbol of strength and direction.
Gina McIntee
2nd place (tie)
Dunville
I have been painting and incorporating the arts into the community for 25 years and have loved every minute. To create and express is a wonderful option to promote wellness for an individual or community. I paint with a strong acknowledgement of Spirit, nature, wildlife & water. I have been fortunate to illustrate books, logo designs, retail commissions and facilitate participatory projects. I have submitted to this contest because I support the MICE team and believe we are all a part of community, and this is the way I am able to express my feelings & thoughts.
5 Things We Want You to Know
1. We are ALL ages.
2. Our symptoms and journeys are different.
3. Some of us work, drive and do what we did before our diagnosis.
4. We like to socialize.
5. We contribute to our community!
Get in touch
Please fill out this form or Contact M.I.C.E.
Email: [email protected]
Phone: 905-920-7721