Dementia Inclusive Communities Everywhere
DICE Haldimand
In 2021, a group of local 'change-makers' (DICE Haldimand) came together to challenge the way we think about living with dementia. This group of amazing and talented people all reside in Haldimand County. They come from different backgrounds, with unique skills, strengths, and viewpoints. With this, they share one very powerful experience – they all live with dementia.
Team members wanted to use the knowledge and perspective they have gained from their experiences to share the message that while they have challenges, they are individuals – they are still here – and most importantly, they are still active and contributing members of our communities.
People who live with dementia can continue to live full and happy lives – ESPECIALLY with the understanding and support from educated communities! 
"Whether we know it or not, we all probably have someone relatively close to us who lives with dementia. We want people to see those who live with dementia for who they are- people first. At the same time, we want people to realize that we all can make positive change, help one another, and work together to create more inclusive communities!" ~Dementia Inclusive CommunitiesEverywhere (DICE) Team
It was with this in mind that the DICE team invited residents of Haldimand County to submit their original artwork with the goal of creating a public mural to communicate what "Dementia Friendly Communities Everywhere" might look like!
In February 2022, 13 submissions were received from throughout Haldimand county representing visions for this public mural.  A team of 5 judges including 2 members from the DICE Team and 3 community members thoughtfully evaluated each submission, using set criteria including:
Relevance and impact
Reflects the panels' vision of a Dementia-Friendly Community
Is positive, bright, and attention-grabbing
Is inclusive in design
Overall quality and Originality of design
Intrigues viewers and stimulates the imagination.
Consideration was also given to general appeal and how each piece reflected the Haldimand community.  The artwork completed from this call will be reproduced in a public mural- launching in September 2022 for Alzheimer's Awareness Month!
DICE Mural Contest Winners
April 28, 2022 – We are pleased to publicly announce the 3 winners of the DICE Haldimand – Dementia Inclusive Communities Everywhere–  Mural Contest! Winning designs have been awarded with honorariums (1st place – $500 | 2nd Place: $300 | 3rd Place: $200). The artwork completed from this call will be reproduced as a public mural in 2022- beginning in Caledonia – the local community where the 1st place winner  – Ms. Andrea Bridge – resides!
Congratulations to our 1st Place Winner: Andrea Bridge from Caledonia!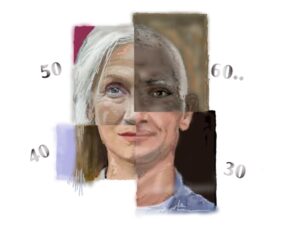 Congratulations to our 2nd Place Winner (tie): Sarah Butcher from Jarvis!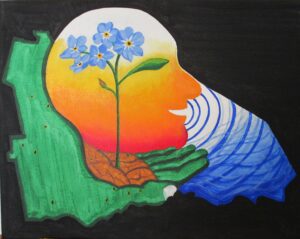 Congratulations to our 2nd Place Winner (tie): Gina McIntee from Dunnville!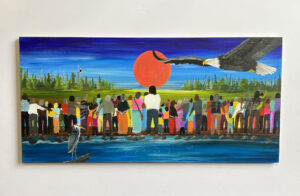 COMING SOON! – DICE Wall of Honourable Mentions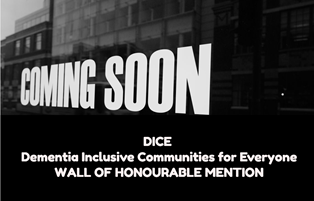 We have been touched by the thought, effort, and ideas that all  artists submitted to promote understanding, inclusion, and a sense of community for people who live with dementia and residents of Haldimand county. For this reason, we are creating a DICE WALL OF HONOURABLE MENTION to acknowledge the submissions of consenting participants. We hope this Wall will bring some attention to the amazing artistic talent in Haldimand County and further inspire dialogue around our goal of Dementia Inclusive Communities Everywhere!
Small Actions = Big Change
You can do little things to make a difference for people who live with dementia!
Be Mindful. Be Kind! Our biggest message is that kindness really does matter. You never know what somebody is experiencing in their day-to-day life, whether it be dementia or something else. We NEED to work as a community to create more  inclusive spaces. We are a community- all of us can contribute in different ways and help one another!
Get Involved with DICE (Dementia Inclusive Communities Everywhere)! Creating a Dementia Inclusive Community for Everyone takes all of us. Stay tuned for more information about and opportunities to get involved with our community engagement event and unveiling of the DICE Mural that will take place in September 2022!
Volunteer with us! If you are a person who lives with dementia in Haldimand county who is interested in joining the DICE team, we want to hear from you!  Please contact Shelagh at 905-920-7721 or shelagh@hamiltoncoa.com