Release of the What We Heard Report
Today, we are pleased to release our report: 'What We Heard: Empowering Dementia-Friendly Communities Project Hamilton & Haldimand, June 2021.' This report is a culmination of the feedback provided through community consultation in 2020. Its contents is paramount and the first milestone in our journey to better understand the real issues and shared experiences faced by people living with dementia in our communities. This report will be used as a blueprint to help guide our journey, working alongside people living with dementia to empower dementia-friendly communities!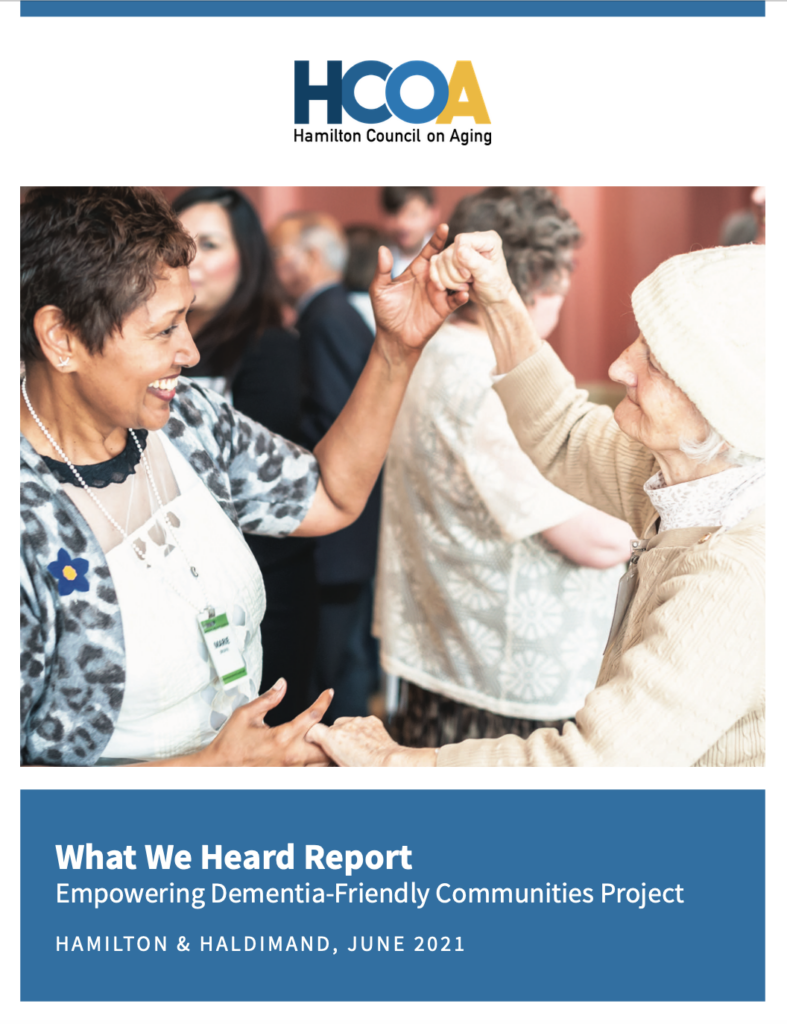 We encourage you to read our full What We Heard Report which includes powerful anecdotes about personal experiences, challenges, and insight on how we might adapt to become more inclusive, dementia friendly communities. The report also contains more detailed information about the project, our process and the challenges and limitations we experienced in gathering information.
To view the report in French, please click here. Printed copies are available in English and French and can be mailed upon request (contact Cheryll at 905-529-7030 or [email protected]).
---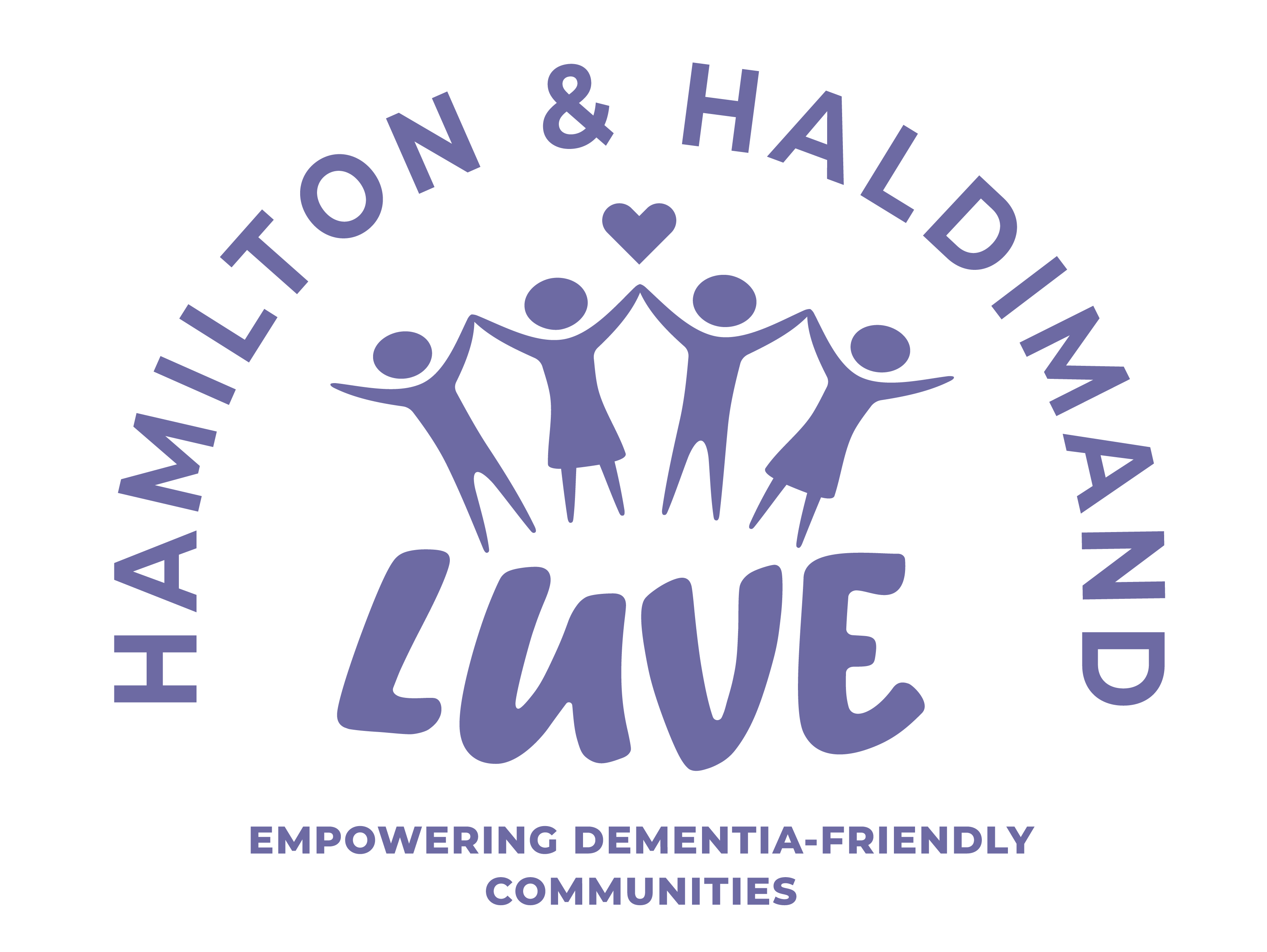 We have a new project logo!
Thank you to Phyllis Fehr, Empowering Dementia-Friendly Communities leader, for conceptualizing our new logo and to Kitestring for bringing Phyllis's vision to fruition by creating such a representative and meaningful design for this work. Moving forward, we will use this logo to identify our project to remind people to empower dementia-friendly communities through LUVE: Listening, Understanding, Validation and Empathy!
---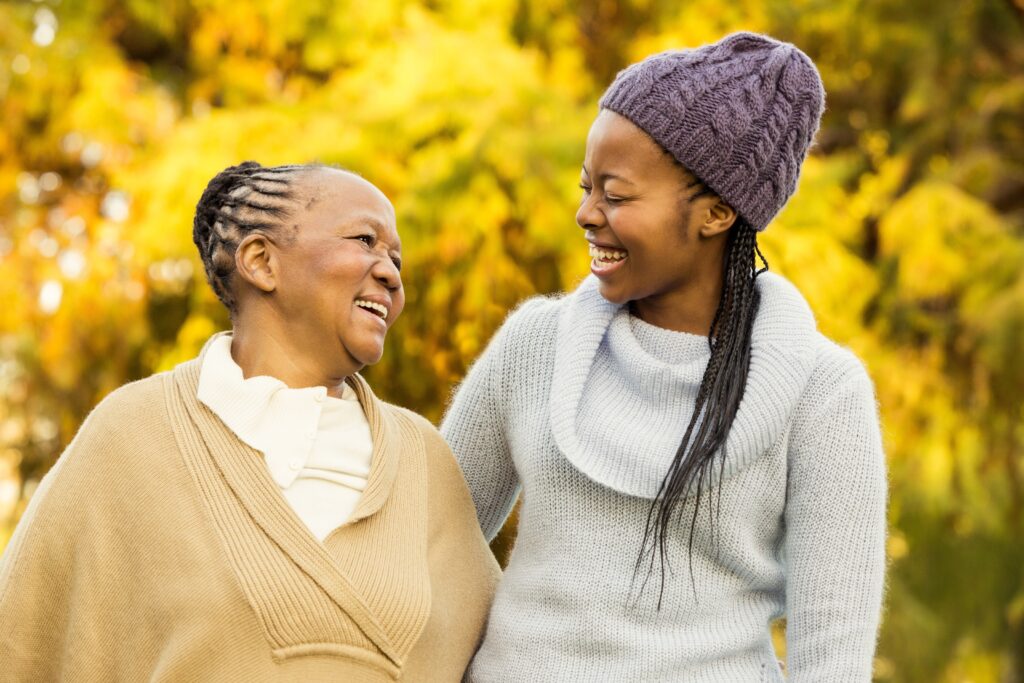 People living with dementia in Hamilton and Haldimand are informing and inspiring us to create dementia friendly communities!
Empowering Dementia-Friendly Communities in Hamilton and Haldimand is communities-based initiative led by people living with dementia, the Hamilton Council on Aging, and a multi-disciplinary team of partners, including the Alzheimer Society of Brant, Haldimand Norfolk, Hamilton Halton, the GERAS Centre for Aging Research, the Regional Geriatric Program central, McMaster University, Haldimand-Norfolk Community Senior Support Services, Hamilton Health Sciences, Haldimand War Memorial Hospital and the AgeFriendly Hamilton Collaborative Governance Committee. This four-year investment from the Public Health Agency of Canada's Dementia Community Investment Fund provides an opportunity to engage people living with dementia, their care partners, families and other stakeholders to develop, implement and evaluate promising practices, programs or initiatives that improve quality of life for persons living with dementia within their communities.
What we believe to be unique about this change project is its model to engage and prioritize the insight and participation of people living with dementia to guide and provide leadership through all stages of development.
In 2020, community consultation took place to better understand the unique challenges and experiences faced by people living with dementia in the communities of Hamilton and Haldimand county. Feedback was provided by over 300 people living with dementia and their care partners spanning geographic regions across Hamilton (77%) and Haldimand county (23%). While there were a wide range of differences among respondents, including age, geography (neighbourhood), diagnosis, and living situation, shared experiences and themes emerged among consultation participants.
---

Empowering Dementia-Friendly Communities Presentation at the Hamilton Seniors' Kickoff Event
The Hamilton Seniors' Kickoff Event is an annual event to celebrate Seniors' Month (June) in the City of Hamilton. This event features presentations, demonstrations, and entertainment to promote 'aging well in Hamilton'. We are thrilled that our Empowering Dementia Friendly Communities Initiative will be featured as a keynote presentation at this years' 'virual' event!
Join Empowering Dementia Friendly Communities (EDFC) Leaders Phyllis Fehr and Debbie Keay to hear their personal stories about living with dementia in our community and how they are channeling their experiences to create positive change for others. Tracy Gibbs, EDFC Project Manager will join Phyllis and Debbie to speak about the project and its goals.
Click here to learn more about the Seniors Kickoff Virtual Event. Attendance is open and free of charge.
Stay tuned for details regarding our presentation during the event.