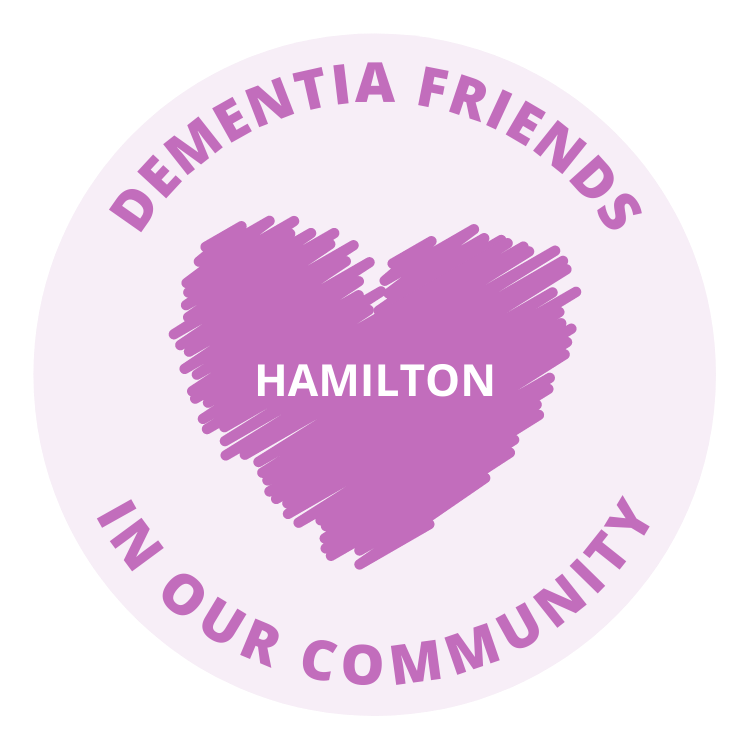 Dementia Friends in our Community
Hamilton
Dementia Friends in our Community (Hamilton) is a group of talented and passionate individuals who came together in 2021  around a shared experience — they all live with dementia.
The goal of this team is to create positive change for others who live with dementia, their families, and the community by sharing what they have learned through their personal challenges & experiences, along with the newfound perspective they have gained.
People who live with dementia are still themselves
"WE are still here. WE are still able to contribute and continue to live as well as we can each and every day."
Living with Alzheimer's & Other Dementias
A publication written by people who live with dementia
In 2022, Dementia Friends in Our Community- Hamilton launched a newsletter to challenge the way people think about living with dementia. Team members are individuals, each experiencing a unique journey living with dementia. They are different people, different ages, at different stages, and with different experiences and perspectives! Members of Dementia Friends in our Community want to share the knowledge and insight they have gained through living with dementia to help others better understand their experience in order to create more educated, supportive, and inclusive communities.
Living Well with Alzheimer's & other Dementias is a quarterly newsletter, distributed both online and in printed copies. Each newsletter follows a particular theme chosen by team members (example: our first edition- available below- centres around the theme 'my diagnosis.').
Each newsletter will include a personal story, self-care piece, education column, and even a brain activity! We also include a column submitted by a team member's care partner to show the experience of living with dementia from this perspective.  *NEW: Each edition, we are also profiling one community service/resource which has been helpful in our journeys living with dementia!
From 'Dementia-Experts' to the cashier at our local variety store, education and re-education are paramount to challenge perceptions and improve how we do things. You might be surprised about what you learn when you remain open-minded and look at things a little bit differently – through the eyes of somebody with lived experience!
Edition 2: You are Needed through all of the Stages & Phases of our Journey (Spring/Summer, 2022)
Edition 3: Living well with dementia looks different for everyone (Fall, Winter 2022)
Small Actions = Big Change
You can do little things to make a big difference for people who live with dementia!
Be Mindful. Be Kind! Our biggest message is that kindness really does matter. You never know what somebody is experiencing in their day-to-day life, whether it be dementia or something else. We NEED to work as a community to create more inclusive spaces. We are a community- all of us can contribute in different ways and help one another!
Take the Empowering Dementia Friendly Communities FREE Certificate Education Program! Contact Wendy at

[email protected]
Volunteer with us! If you are a person who lives with dementia who is interested in joining Dementia Friends in our Community or submitting an article for our newsletter, we want to hear from you!  Please contact Shelagh at 905-920-7721 or

[email protected]