Links & HCoA Resources: Age Friendly Training for Volunteers and Professionals
In 2014, while consulting for Hamilton's Age Friendly Plan, we discovered that older adults everywhere said that they did not know where to go for help when they needed it!
In an effort to address this problem, the Hamilton Council on Aging formed a partnership with Information Hamilton and the Hamilton Public Library to develop the HCoA Older Adult Peer Connector Program (HPCP). HPCP began in May 2015 with funding from the Ontario Trillium Foundation. Our primary objective for this program was to develop a comprehensive training program and resources for senior volunteers and professionals to become knowledge brokers to help other older adults connect to their communities. Between May 2015 and March 2017, over 180 individuals attended HPCP training, including: 63 HPCP volunteers, 90 older adults volunteers working in partnership with other community organizations, and 30 professionals working with seniors in greater Hamilton.
Through the progression of our pilot program, it became evident that our greatest success was in the tools and resources developed for the program. These tools can now be freely accessed and utilized by older adults, family members, and community partners as they need them through the links provided on this website. We invite you to use these tools to help you connect to programs and services for older adults in Hamilton!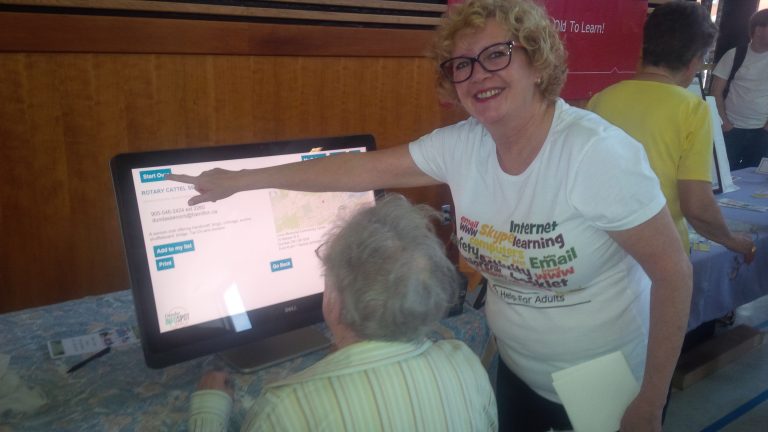 Amy Back and Dr. Mary Buzzell from the DA55+ Steering Committee navigate Age Friendly Resources in Dundas
Information / Communications
Health/Community Services