Thank you to all Haldimand Artists who participated in the DICE MURAL CONTEST!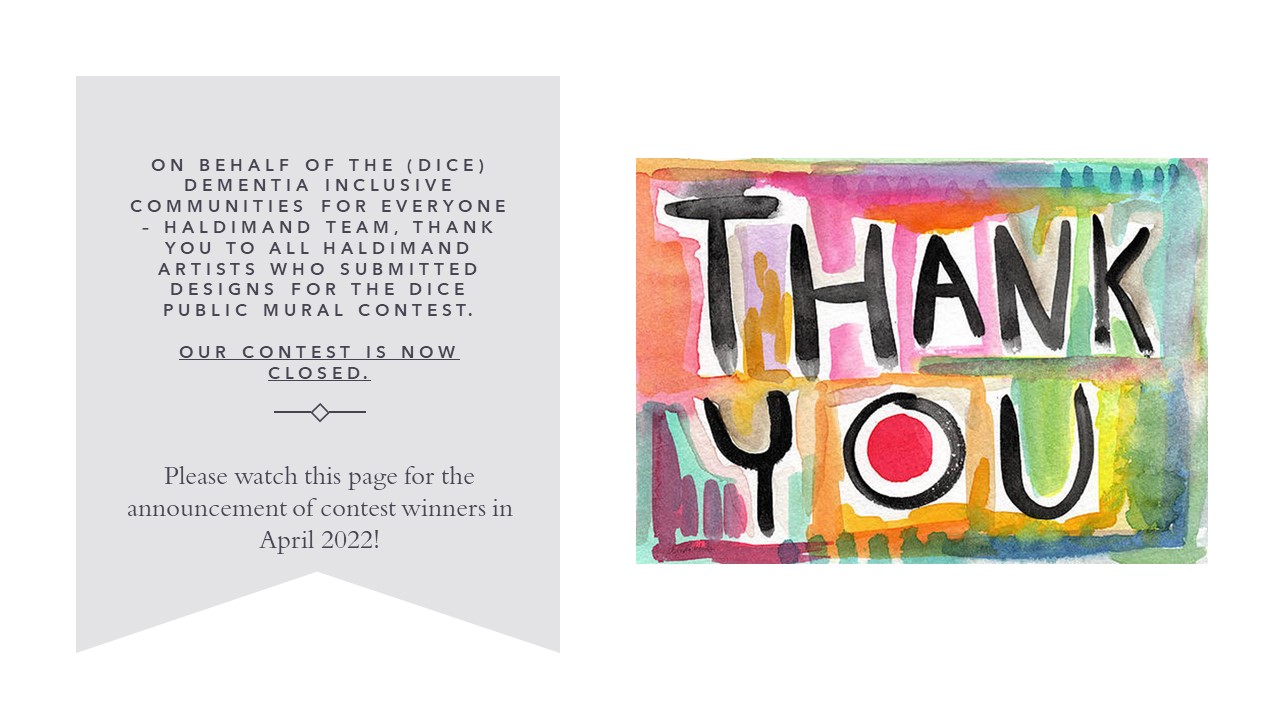 The DICE (Dementia Inclusive Communities for Everyone) Team of Haldimand is seeking the help of Haldimand residents to reimagine the way we think about what it means to be a part of a dementia-inclusive community!
Last year, a group of local 'change-makers' came together to challenge the way we think about living with dementia. This group of amazing and talented people come from different backgrounds, with unique skills, strengths, and viewpoints. With this, they share one very powerful experience – they all live with dementia. Team members wanted to use the knowledge and perspective they have gained from their experiences to share the message that while they have challenges, they are individuals – they are still here – and most importantly, they are still active and contributing members of our communities. People who live with dementia can continue to live full and happy lives – ESPECIALLY with the understanding and support from educated communities!
"Whether we know it or not, we all probably have someone relatively close to us who lives with dementia. We want people to see those who live with dementia for who they are- people first. At the same time, we want people to realize that we all have the ability to make positive change, help one another and work together to create more inclusive communities!" ~Dementia Inclusive Communities for Everyone (DICE) Team
It was with this in mind that we came up with the idea for the DICE MURAL CONTEST, a contest for Haldimand artists to design a public mural about what it means to belong to a community, while sharing a message of hope and inclusion for people who live with dementia.
In February 2022,  residents of Haldimand County were invited to submit their original artwork to communicate what "Dementia Friendly Communities for Everyone" might look like. Three Winning Designs are in the process of being selected by a panel of judges, including members from the DICE Team and community members. Winning designs will be awarded with honorariums (1st place – $500; 2nd Place: $300; 3rd Place: $200) along with public recognition. The artwork completed from this call will be reproduced in public murals in Haldimand county in 2022- beginning in the local community where the 1st place winner resides.
Update: March 2022: The DICE Contest is now closed. Thank you to all Haldimand artists who submitted designs for the Dice Mural contest.  Contest Winners & next steps will be announced in April 2022!